Long tail versus Long neck: Are you optimising the most obvious keywords?
By Julian Karstel - 1218 views
Identifying the right keywords for search engine optimization is essential, so picking the most popular ones would be the obvious choice?

Long Neck:
Long neck (or short tail) keywords, refers to keywords that are broader and therefore used more often. Most long neck phrases are one word in length. Long neck keywords, as indicated by the graph, are the most popular keywords and individually have the most visits. These keywords are however highly competitive, and demand more resources to be optimized effectively.
Long Tail:
Long tail keywords, refers to keywords that are more specific, and therefore aimed at niche markets. Long tail keywords, as illustrated by the graph, are less popular, however they are less competitive. Long tail phrases are mostly longer than one word. Four word phrases have the highest conversion rate (Resulting in a sale). The obvious choice would be to optimize the most popular keywords, wouldn't it? However while the Long neck keywords individually get the most visits per keyword, overall the long tail as a whole gets the most visits.
For example (refer to graph): Lets say you are sitting in the office and it is approaching lunchtime. Suppose you were to google the word "food" you would find yourself searching in the long neck of search phrases. Now you want to narrow your search so you try "Pizza", or even narrower "Meaty pizza". At this stage you are approaching the long tail; a more specific search produces less results, but increases specificity. By searching the phrase "Pizza delivery Centurion" you are using long tail keywords, and most likely getting the result that you need- finally!
Reasons for targeting long tail keywords:
-You cater for a broader audience.
-Competition is less severe.
-Requires fewer resources.

By targeting the long tail keywords you are also able to establish yourself within niche markets. Long tail leads also convert more visits into sales because the people know exactly what they are looking for. By doing proper keyword research you can identify exactly which keywords you should really be spending your time on. Additionally this allows you to optimize your website accurately.
Note: One of the best ways of targeting long tail keywords and phrases is through your company blog. Don't have a company blog? Check out Content Marketing 101: 12 Steps to Creating a Powerhouse Blog.
While long neck keywords might seem the most attractive, it is the long tail keywords with the most potential. Sometimes the most obvious choice is not the most attractive, but the one with the most opportunity.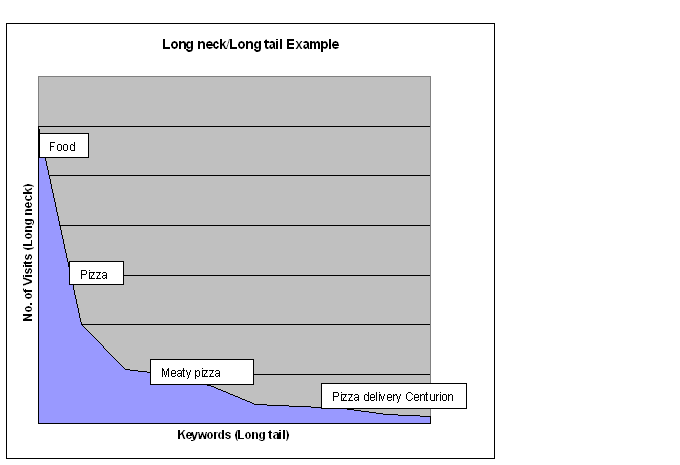 Julian Karstel is a Digital Marketing Consultant for Sound Idea Digital |@JulianKarstel|Julian@soundidea.co.za | Sound Idea Digital is a full service digital agency |www.soundidea.co.za |

[Back]
blog comments powered by

Disqus