A Quick Guide to Optimising and Perfecting Your Social Media Profiles
By Donna Palermo - 55979 views
It is amazing how little consideration is taken when uploading a new Social Media profile. It is a subconscious action that might cause reputational damage if done incorrectly unbeknown. For instance if you upload a photo of yourself on LinkedIn with a party going on in the background, it will send the wrong message. To be on the safe side have a professional photo taken of yourself and upload it to your profile, here are other considerations to keep in mind when uploading new profiles or changing them entirely.
A profile is the first impression people have of you, as a company or individual. It should be created in such a way to leave a lasting impression, because first impressions set the tone for the relationship in future. Viewers will make a quick judgement based on what they see, so you only have a few seconds to WOW them.
Do not come up with over complicated names
Be careful with the name you choose because you will be stuck with it. Picking something elaborate or catchy may sound like a brilliant idea now, but you may regret it later. To avoid any drama, pick a name that is neutral, easy to read and find. Stick with the name your mother gave you, unless you have three names. It is easy for you to make things complicated, for instance, you might use Eriel. P. Roberts, or E. P. Roberts. Rather stick to Eriel Roberts.
Do not try to make it seem like you thought about a way to make your name seem more professional. Did you know that people respect you more if you have a middle name such as, Dr. Karl. P. Fisher, see how more professional that sounded? For the sake of your profile and those trying to find you, keep it simple.
Make your profile stand out
Make your profile all about you. To do this add a picture, a cover, links to your blog, website, all social media accounts and a short description of who you are and what makes you tick.
Your description
Keep it short because your audience does not want to have to read twenty paragraphs on your whole life history. They need to know exactly who you are in a paragraph or two. There is an art to doing this properly, if you do it wrong it could sound rushed.   Allow the paragraphs to smoothly sum up who you are. The length of your description all depends on which platform you are using. For Facebook you will have much more to say than on twitter. The golden rule here is to not bore people.
Tips on the picture to use for your profiles
Firstly, you should be smiling: if you are trying to come across as likeable what better way to accomplish that than with a smile? When choosing a picture let your face be off the side, and not dead in the middle of the picture, this makes you look more relaxed. Couple this with a great smile and this is what you get: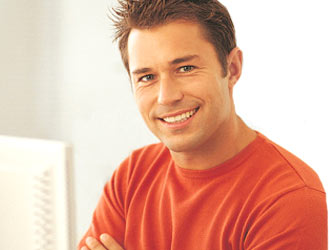 PhotoCredit: https://warosu.org/fa/thread/7113260 [1 July 2015].
Stick with one photo. You need to see your picture as your logo. You want it to stay consistent, in that case people will recognise and remember you for your consistent picture.
More on your cover
Covers in social media platforms are your playground, so have fun with it and be creative. A cover gives you the opportunity to show off your personality, so nothing you do here will be wrong. Of course if you do not have a cover it with look less appealing. Change your cover as much as you like, because people see it less often.
Overused buzzwords on LinkedIn
According to LinkedIn's official blog, there are specific buzzwords that people use for their LinkedIn profiles. I suggest you check out this blog, you'd be interested to see the results, as well as be more informed on which keywords to stay clear of.
The word 'Creative' has made many appearances in recent years, in 2013, 'Responsible' took the number one spot. It seems that people are copying what they see on others profiles. Be original with your description. You are painting a picture of who you are for future employers or business deals, they need to get an honest opinion of who you are. We cannot all be brilliant writers, but an original description looks better than a generic one.
In 2015, according to LinkedIn's blog, 'Motivated' took the number one spot and in a close second 'Creative' made a surprising comeback. If you insist on using these keywords, back them up with evidence. Do this by uploading examples of your work in which you 1. Acted responsibly, 2. Had to get creative, and 3. It motivated you at work.
When all else fails, analyse the profiles of other professionals with plenty of followers, friends or connections, they are obviously doing something right, draw inspiration from these profiles and customise it to make it your own. You are simply seeking inspiration. And above all else, have fun with it.
Here is a link to LinkedIn's most recent blog.
Here's another great link to check out @Hubspot.
Sound Idea Digital specialises in Learning Management Systems and eLearning developments | soundidealearningmanagement.co.za
[Back]
blog comments powered by

Disqus